Data pipes designed to mobilize
multi-site and cloud data.
DNAfabric enables you to build secure, scalable, accelerated data pipes between on-premise, remote,
and cloud storage pools including file-systems, object stores, consumer cloud stores and more.
Data Pipes to Connect All Storage Types
FS to FS Sync Applications
Backup, Snapshot FS to another FS
Archive Avid/Adobe Projects to Nearline
Create an FS Disaster Recovery Copy
Stub based Tiering to Nearline
Sync FS's for cross-site collaboration
FS to Object Sync Applications
Backup, Snapshot On-Prem/Cloud FS to Object
Archive Avid/Adobe Projects to Object
Conform via ALE from Object
Tier and Archive Across Hot/Cold Object Tiers
Stub based Tiering to Object
Sync to Object for Cloud Pipelines (Transcoding/Editing)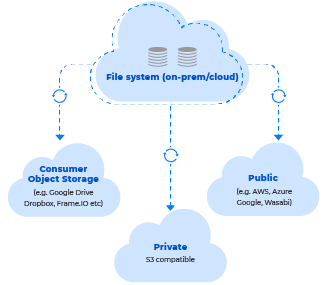 Object to FS Sync Applications
Re-Hydrate any file-system from an Object Store
Connect Services on Object (e.g. Transcoding) back to FSs
Migrate from Object stores to On-Prem FS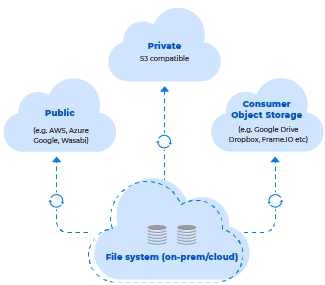 Object to Object Sync/Tier Applications
Migrate between Cloud Object stores
Tier from Hot to Cool Object stores
Migrate Cloud Object stores to On-Prem Object
Backup multiple Object stores to single Object store
Archive multiple Oject stores to Deep Archive Object stores
FS to LTO/LTFS Applications
Backup, Snapshot FS to LTO/LTFS
Archive Volumes to LTO/LTFS
Backup Camera Cards/HDDs to LTO/LTFS
Avid/Adobe Project Archiving to LTO/LTFS
Conform via ALE from LTO/LTFS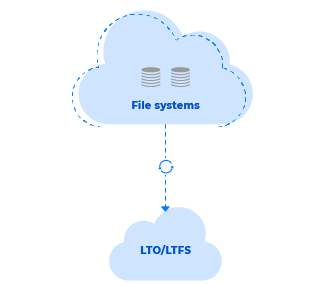 Enterprise Scalability & Performance
Scalability
DNAfabric is built on a clustered architecture where management components (web-server, databases) can be scaled as needed. DNAfabric agents can also be scaled to hundreds of systems.
Performance
Multi-threaded scanners, indexers and transfer engine paired with multi-node jobs allows for faster mobility and visibility workflows.
DNAfabric's cost management tools can help you understand and select the appropriate cloud provider and tier.
Once your data is in the cloud, it can help you manage costs in the cloud.
1
Compare Cloud Vendors and Tiers
DNAfabric analytics tools help you understand costs across multiple cloud tiers and vendors before you upload your data.
2
View Cost vs Age Maps
DNAfabric analytics highlights cost vs storage age access maps allowing appropriate re-tiering of data.
Security & Access Control
DNAfabric integrates cloud-based security paradigms from AWS, Azure, Google including VPNs, VPCs, AD, secure object stores and more to help you build a highly secure data management platform.
Secure Object Stores
DNAfabric maximizes the use of object stores in data mobility workflows as they provide secure and scalable transfers.
AWS, Azure, Google VPN and VPC
DNAfabric is tested with cloud based VPNs allowing hybrid workflows to be encrypted via a secure cloud VPN.
Active Directory
DNAfabric integrates into Active Directory for user/group authentication across on-premise, cloud and remote workflows.
*Coming Soon